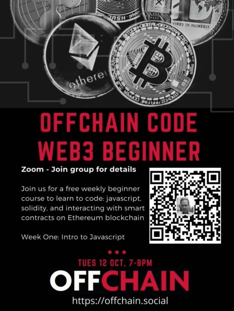 Welcome to OffChain Code – a free introduction to coding and blockchain smart contract development.
The weekly classes started on Tuesday, 10/12/21 and happen every Tuesday at 7-8PM China time. Each weekly class is delivered on Zoom, and there are short exercises that should be completed before the next class. People in Guangzhou can join in person at Ketuo Incubator. You will need a computer and a VPN for those in China. The class content is delivered in English. Each class is recorded – see the links below. Even if you missed many classes before, you can watch the videos and do the exercises to catch up.
We will start with beginner programming fundamentals using Javascript for frontend web development. We will follow this tutorial (register – no cost, do not need pro version): https://www.codecademy.com/learn/introduction-to-javascript
Once we have completed this, we then graduate to use web3 interactions with a blockchain smart contracts and build a dApp on a testnet. We will do an intro to smart contract development in solidity. We will do a basic workshop of building your own token, but more advanced users can go much more in depth in this area. https://link.medium.com/AO0mozHRWjb
We expect we can get the entire class through this content by end of year at a reasonable pace, with many opportunities to go much deeper if you have more time. If you are already an experienced coder who wants to go immediately into solidity smart contract development or other areas, reach out and we can set up an advanced pace or topic discussions.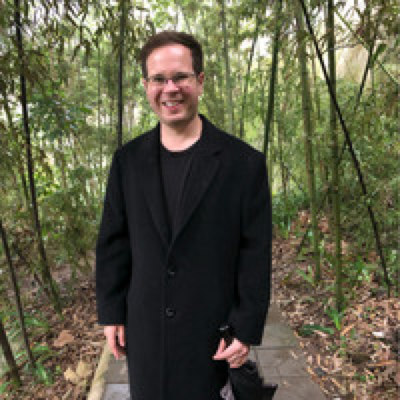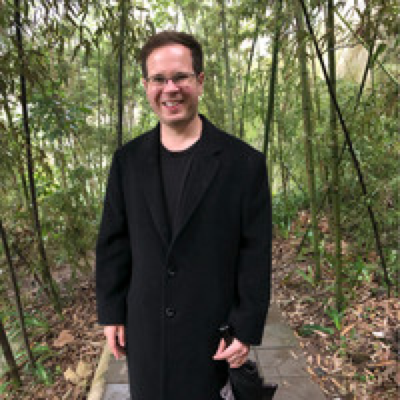 Ben, the founder of OffChain Code and a co-founder of OffChain Guangzhou. During the daytime, he is a software development manager at a leading global bank. Over the last twenty years, he has held positions as in software engineering, consulting, and CTO for large companies like IBM and for his own firms.
Contact Ben to join the class. Telegram: violinvivaldi / WeChat: violinvivaldi
Class Schedule and Videos
(2021/10/12): Javascript Introduction – https://youtu.be/cuo5_faEDJk
(2021/10/19): MetaMask Introduction – https://youtu.be/6HUXDw5osLc
(2021/10/26): Metamask using Javascript – https://youtu.be/PuOe52xRRoY
(2021/11/02): Functions in Javascript and Solidity for NFT – https://youtu.be/j9FifFLiCUc
(2021/11/09): Scope, Smart Contract Verification – https://youtu.be/cbNyCbZDE3c
(2021/11/16): Arrays – https://youtu.be/R4OUYbpO5P0
(2021/11/30): Loops – https://youtu.be/7e-R2-0JEJ4
(2021/12/14): Iterators – https://youtu.be/TmmIo_zymq4
(2021/12/21): Objects – https://youtu.be/n6xk26cr3k8
(2022/04/13): Intro Into Blockchain